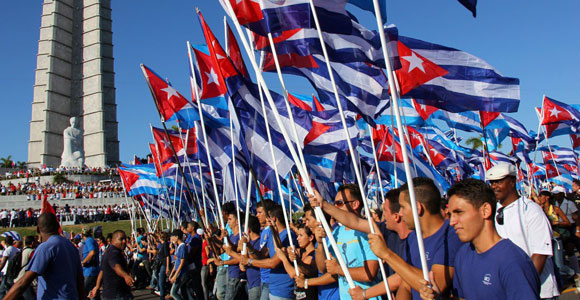 May Day in Havana plus visit to Pinar del Rio's rural communities and Viñales countryside
If you want to join Havana's legendary May Day march in Revolution Square this year you'll need to book quickly as there's just six spaces left on our popular May Day Study Tour.
This fantastic tour offers participants a special invitation to attend the May Day Rally in Plaza de la Revolución, joining over one million Cubans to mark this important day in the Cuban political calendar.
The tour includes a 3 night stay in Pinar del Río province, with visits to rural health and educational services and to an agricultural cooperative in the fascinating landscapes of Viñales. You'll also meet with Cuban trade union organisations and visit workplaces, schools and local health care centres. Plus there's plenty of time to relax and enjoy Cuban history, culture and music.
Participants can also take part in the International Solidarity Conference, sharing ideas and values with our Cuban hosts and participants from around the world.
No other country celebrates May Day quite like Cuba. The colour, music and joyous atmosphere of hundreds of thousands of Cuban's celebrating together is a once in a lifetime experience. Find out how you can join this year's celebrations in Havana.
Full details, itinerary and price here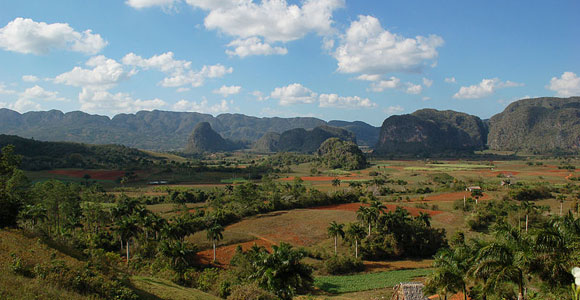 The May Day Study Tour runs from 26 April – 8 May 2018. Alongside the spectacular May Day parade, you will also have the chance to:
•
Explore Pinar del Río and the dramatic landscapes of Viñales
•
Try out your salsa steps in the exciting capital Havana
•
Meet with workers in their workspaces and community organisations
•
Support Cuba and help the campaign to end the US blockade
There will be wonderful opportunities to share experiences with the Cuban people in their local neighbourhoods and plenty of time to relax and enjoy the vibrant Cuban culture both in the city and countryside.
Be more than just a tourist!
Escape the usual tourist trail and discover the revolutionary island and its people. To book or find out more visit the links above, email tours@cuba-solidarity.org.uk or call the office Monday – Friday 9.30am-5.30pm on 0207 490 5715.
The May Day Study Tour is exclusive to the Cuba Solidarity Campaign's Cuba Travel shop and cannot be booked through any other travel operator.
We hope to welcome you to Cuba in May.
The Cuba Solidarity Campaign Team
Cuba Solidarity Campaign c/o Unite, 33-37 Moreland Street, London EC1V 8BB, UK
Telephone: +44 (0)20 7490 5715 | Fax: +44 (0)20 7490 3556 | Email | www.cuba-solidarity.org.uk