More than 100 US cities conduct sit-ins and marches outside restaurants to call for a $15 minimum wage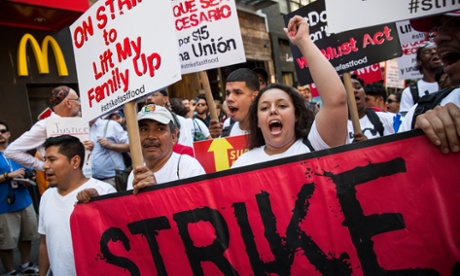 A nationwide protest against low wages in the US fast-food industry culminated in hundreds of arrests on Thursday, as activists stepped up their campaign for higher pay and better benefits for workers at companies such as McDonald's, Burger King and KFC.
Protesters in more than 100 cities including Chicago, New York and Detroit took part in sit-ins and marches outside fast-food restaurants, with many conducting acts of civil disobedience designed to get them arrested.
Many fast-food jobs pay little more than the federal minimum wage of $7.25 an hour. Thursday's day of action called for a minimum wage of at least $15.